Playout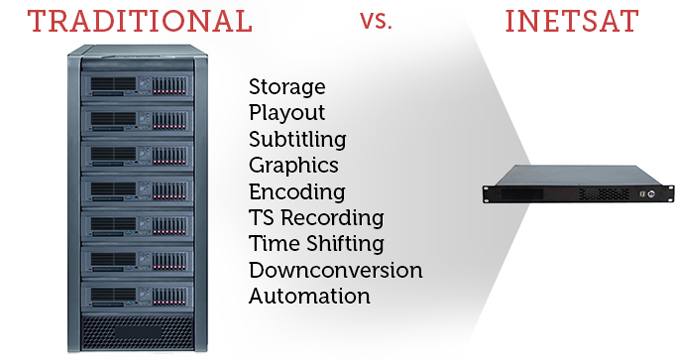 Inetsat's playout platform incorporates everything you need to playout a linear channel based on pre-recorded content. It is a fully automated solution which can be easily integrated into your existing operations. It can typically replace a rack of traditional playout equipment with a single 1u video server.
Playout: Based on the playlist and media provided, our platform will generate the playout of your linear channel through all the video servers linked to your feed.
Up/Downconversion: Playout your channel in HD, SD or both. You can also combine HD and SD content in the same playlist and Inetsat will automatically Up or Down convert the media as required for the configured output.
Subtitling: Multiple subtitle channels can be embedded into your output. Upload your subtitle files in any format (i.e. EBU, PAC, SoftNI, etc.), and our servers will generate the DVB, SCTE27 or Hard Burned subtitles in the output.
Graphics (Secondary Events): Our graphics engine can overlay complex multi-layer graphics based on the templates created by your designers, using our Template Builder tool. These templates can contain multiple images, animations, text elements, audios, videos, countdown clocks, and also squeeze the main video if needed. The content for the text elements can be dynamically obtained from the playlist so that a single template can be employed on multiple occasions with different texts. In the same way, the content for images, animations, audios, and videos can be dynamically obtained from the repositories. Each output of a video server may be configured to use its own set of graphics so you may generate differentiated graphics in HD and SD.
Encoding: Our video servers can output the feed in baseband over SDI, in an encoded TS over ASI, or via IP with video encoded in H264 or Mpeg2 and audio encoded in a variety of formats. The output's bitrate can also be configured independently for each video server.
Web Ready: Our servers can also generate a multibitrate HLS stream that can be easilty integrated with a CDN to stream your linear channel to the web and mobile devices.
TS Recording: Each video server can be configured to record and store a copy of the ouput for several months to meet auditing or legal compliance requirements. A lower bitrate and resolution may be configured for these recordings to increase available storage capacity. You may also configure the server to save a thumbnail of the video output every few seconds.
Time Shifting: Each video server can be configured to time-shift its output so the playout in different regions is adjusted to the local time zone. You can even generate multiple time-shifted outputs from a single server.
Remote automated operation: Once the content and playlist are uploaded to Inetsat's platform, all the video servers linked to each feed will synchronize with their respective content repositories and perform the playout automatically. There is no need to remotely access a video server to check if it has the right content or playlist nor any local management is required.